[Uncategorized] Contact Blocks & Light Blocks
제조업체 부품번호
M22-SWD-K11LED-G
규격
Eaton M22 Contact & Light Block 1CO LED Green Smartwire terminal
제품 세부 사항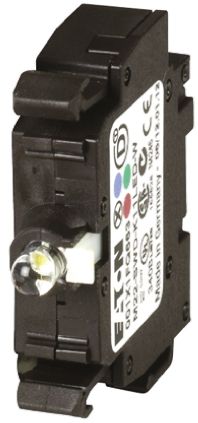 SmartWire DT Front Mounting Contact Blocks
SmartWire DT contact blocks for use with the RMQ Titan M22 range of control circuit devices. SmartWire-DT is a simple communication system to connect switchgear systems it reduces the wiring requirement needed and the expense compared to other systems. Connection via standard fieldbus systems (e.g PROFIBUS, CANopen) allows the use on other platforms.
Versions with 1 or 2 changeover contacts and with or without integrated LED element
LED elements in 4 colours (white, blue, green, red)
SmartWire DT diagnostics LED fo signalling the communication
Connection to SmartWire DT ribbon cable with external device plug
| | |
| --- | --- |
| Block Type | Contact & Light Block |
| Contact Configuration | 1CO |
| Series | M22 |
| Illumination Colour | Green |
| Illumination Type | LED |
| Terminal Type | Smartwire |
| Body/Fixing Collar Included | No |
| Current Rating | 15 mA |
| LED Included | Yes |
| CAD Drawing | 3D CAD Model |
EATON은 2017년에 204억 달러의 매출을 올린 전력 관리 회사이다. NAT은 고객이 전기, 유압 및 기계적 전력을 보다 효율적이고 안전하게 지속적으로 관리할 수 있도록 에너지 효율적인 솔루션을 제공합니다. Eaton은 전력 관리 기술과 서비스를 사용하여 삶의 질과 환경의 질을 향상시키는 데 전념하고 있습니다. 이튼은 약 96,000명의 직원이 있으며 175개 이상의 국가에서 고객에게 제품을 판매합니다.