[Sounders & Beacons] Modular Beacon Tower Components
규격
Harmony Harmony XVB Beacon Unit, Orange Xenon, Flashing Light Effect, 24 V ac/dc
제품 세부 사항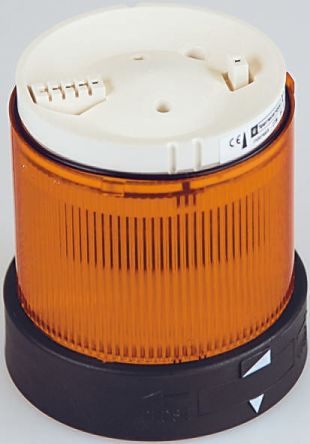 Schneider XVBC Modular Signal Tower
The Schneider Harmony XVBC series is a visual and audible signalling tower used for indicating the various states of operation for a device or installation, such as: start, stop machine, no material, call technical staff, and fault signalling.
These signal towers offer a high degree of protection, extra brightness and excellent reliability enable them to adapt to any type of environment.
Industry applications include machine manufacturers (assembly line, etc.), mobile loads (travelling cranes, trolleys, etc.). Para-industrial and service sector include motorway tolls, cash registers, distribution switchboards, etc.
| | |
| --- | --- |
| Range | Harmony |
| Series | Harmony XVB |
| Component Type | Beacon |
| Current Type | AC, DC |
| Light Effect | Flashing |
| Lens Colour | Orange |
| Lamp Included | Yes |
| Bulb Type | Xenon |
| Supply Voltage | 24 V ac/dc |
| Height | 157mm |
| Base Diameter | 70mm |
| IP Rating | IP65 |
| Maximum Temperature | +50°C |
| Housing Colour | Black |
| Minimum Temperature | -25°C |
SCHNEIDER ELECTRIC은 1836년 유진 슈나이더 1세와 아돌프 슈나이더 두 형제가 설립한 프랑스의 다국적 기업이다. 슈나이더 일렉트릭은 여러 산업군에 걸쳐 에너지의 효율성, 안전성, 신뢰성을 높일 수 있는 통합 솔루션을 제공하는 글로벌 에너지 관리 및 자동화 전문기업이다. 본사: 프랑스 뤼에유말메종 CEO: 장 파스칼 트리코일 (2006년 5월–) 창립자: 유진 슈나이더 자회사: Télémécanique, Square D, APC, Clipsal, 아비바, Merten, 입니다