[Uncategorized] Fuses
규격
Mersen, 3A GMG Cartridge Fuse, 10 x 38mm, Speed F
제품 세부 사항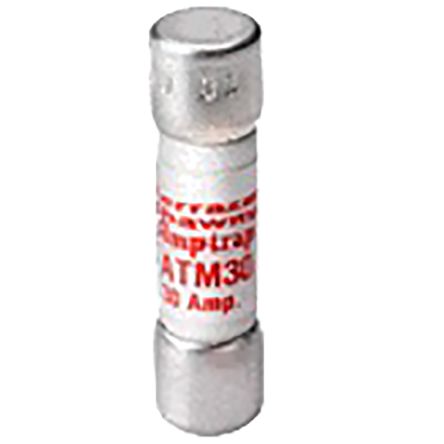 참조용입니다
Mersen, ATM Series Fast Acting Midget Fuses
Product Description
Mersen ATM fast acting midget fuses are 10.3 x 38 mm and operate at an impressive 600 V ac and DC. The ATM fuses are able to withstand high inrush currents and tough duty cycles. These fuses are ideal for many applications due to their high-voltage capacity.
Features and Benefits
Extended ratings for special protection of capacitors and circuits with high inrush currents
600 V dc
Can be used with ultrasafe fuse holders
Fast Acting
Product application information
The ATM fuses offer supplemental protection of circuits up to 600 V dc. The ATM can be used for photovoltaic and solar applications also special protection for capacitors and high current inrush circuits.
Approvals
UL, CSA
| | |
| --- | --- |
| Current Rating | 3 A |
| Voltage Rating | 600 V |
| Fuse Speed | F |
| Fuse Size | 10 x 38mm |
| Diameter | 10.5mm |
| Overall Length | 38.1mm |
| Body Material | GMG |
| Size Designation | Midget |
| UL Class | UL 248-14 |
| Series | ATM |